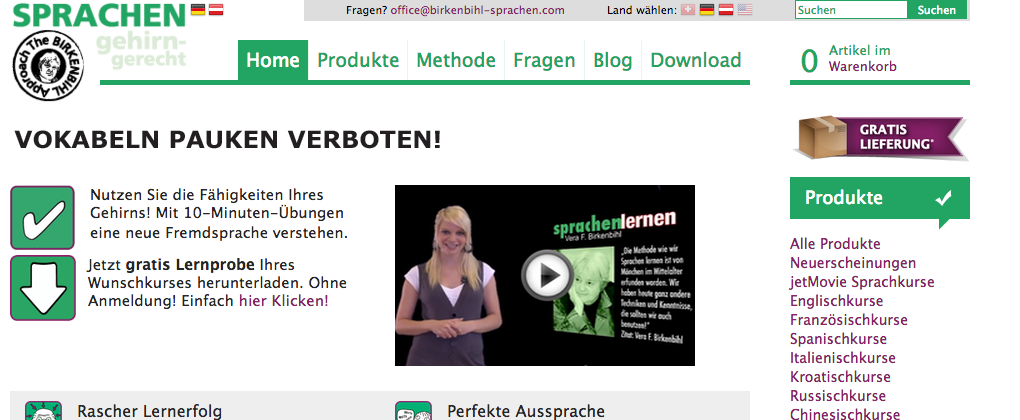 Master a new foreign language quickly and with ease thanks to the Vera F. Birkenbihl approach.
The Birkenbihl Approach is the best way to learn a language. It is THE language for learning.
1 ACTIVE LISTENING
Aim UNDERSTANDING the foreign language
How does it work? You listen to the text in the foreign language that is spoken by a native speaker and follow the de-coded text in your mother tongue (word by word translation) at the same time. This is how you will become accustomed to the language, its specific rhythm of speech and the new vocabulary. Your brain will absorb the rules of the foreign language automatically. Cramming of vocabulary and grammar will therefore be dispensable. This is the first step of the best way to learn a language.
LISTENING TO THE FOREIGN LANGUAGE + READING THE MOTHER TONGUE
= UNDERSTANDING THE FOREIGN LANGUAGE
2 PASSIVE LISTENING
Aim SPEAKING the foreign language
How does it work? You let the understood lessons run in the background as often as possible while you are doing other things. The work is done by your subconscious: While you are listening "passively", your brain prepares you for speaking by building up the appropriate nerve tracts. After a couple of days of "Passive Listening", you will be able to speak the text accurately – just like a child that automatically starts to speak some day after having heard the mother tongue constantly. There is no doubt that you can improve your pronunciation with a stay abroad. This can be simulated with "Passive Listening". This is the second step of the best way to learn a language.
PASSIVE LISTENING = ZERO TIME EXPENDITURE! 
PLEASE NOTE: Start with "Passive Listening" only after having understood the foreign language text of a lesson – that means after having clicked on all the learned words. The "Passive Listening" will only be efficient if you are able to understand the content of the lesson without following the de-coded text. Find Birkenbihl products here: Language learning software.